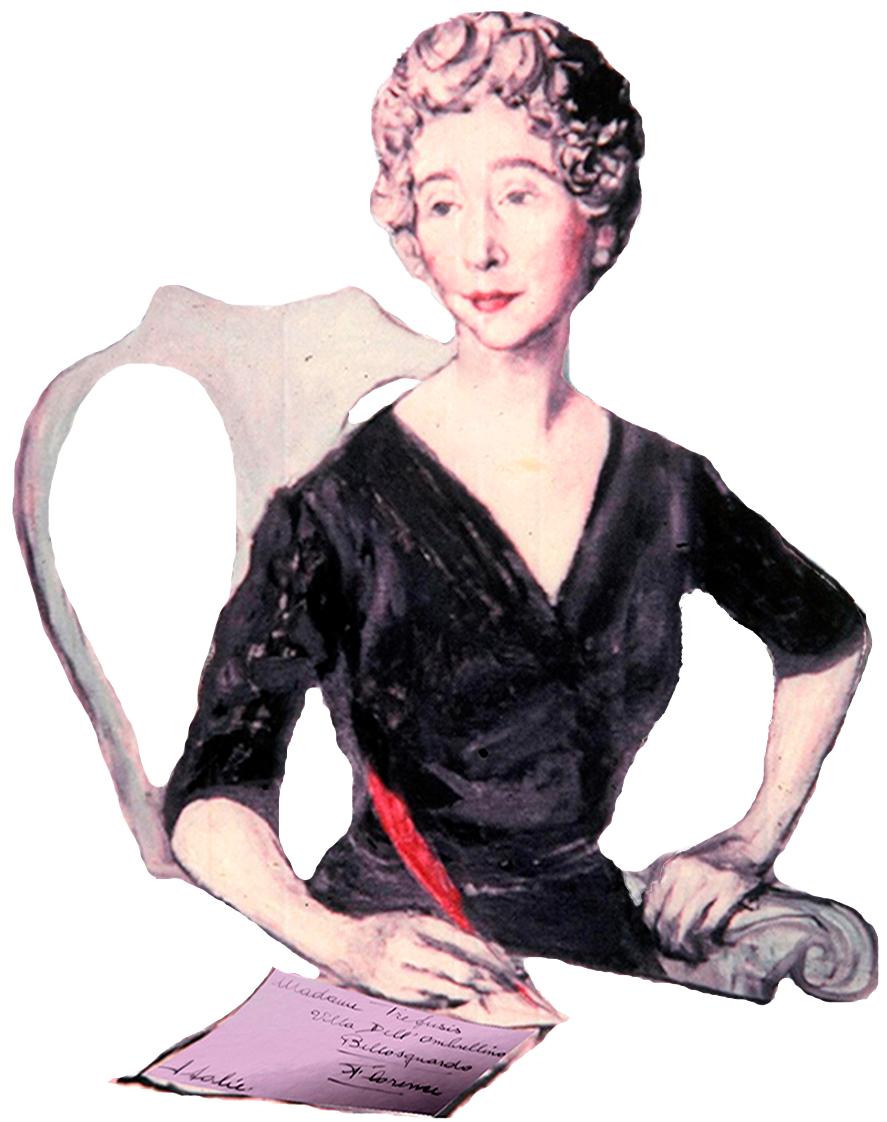 "Les soupirs de la sainte,
  et les cris de la fée."
Tiziana Masucci is a writer, historian, scriptwriter and director. With a degree in Modern Foreign Languages and Literature, and specialization in scriptwriting, she has worked in the theatre as playwright and director; in film productions and in radio as scriptwriter and script consultant; and for publishing-houses as editor and translator. She has created and promoted various artistic and culture events in collaboration with Cultural Institutes including the Institut Français, the British Institute and the Alliance Française, as well as International Festivals.
Dr Masucci has dedicated more than twenty years to study and research on Violet Trefusis, also acquiring the copyrights. In her commitment, Dr Masucci has been driven by the determination to bring Violet Trefusis back to light, to champion her true worth on the basis of historical and biographical evidence free from misleading approximation of the facts and superficial reminiscences. Thus, Dr Masucci has collected an extensive archive of unpublished material, private documents- the new Violet Trefusis Archive- which are the truthful source of her exhaustive works on Violet Trefusis. Her aim is to present Violet Trefusis exactly as she was: a cosmopolitan intellectual, a brilliant writer, a refined poet and a gifted artist.
Tiziana Masucci has curated several exhibitions, and created the thematic event Violet Trefusis a Firenze\Violet in Florence. She is the author of a number of literary essays, papers and adaptations, and has been invited to give lectures on Violet Trefusis in Italy and abroad. She has broadcast on RaiRadio3 Pensieri di Carta (The letters of Violet Trefusis); she has translated into Italian and edited the following books: Anime Gitane, Eco, Broderie Anglaise, I Papagalli sull'Arno, Il Riflesso nel Lago, Il Gioco dell'Amore, Lotta per me, Vento di Primavera! La Poetica di Violet Trefusis, Tandem, La Porta della Salvezza; English editions: The Reflection in the Lake, Tandem, Broderie Anglaise, Don't look round, Fight for me, Wind of Spring! The Poetry of Violet Trefusis, Violet Trefusis's Florence, The Emergency Exit. French editions: Sortie de Secours Echo, Broderie Anglaise, Les trois Violette, La Florence de Violette Trefusis, L'Europe des Salons, Au Jour le Jour. She has written and directed the documentary film Violet Trefusis'Florence. L'esprit de Violette (2018). She promoted the naming of the Violet Trefusis reading-room in the Oblate Library in Florence (2019); she conceived and promoted the creation of the Belvedere Violet Trefusis in Bellosguardo (Florence), one of the world's most beautiful and spectacular panoramic viewpoints. (2020)